The W800 belts are specially suited for drives with backside idlers to make full use of agricultural machinery capabilities.
As agricultural machinery increasingly enhances its performance and functions, the quality required for V-belts used is going upscale.
In the fine quality market, there are cases where agricultural machinery should use more than the RED-S II in order to thoroughly deliver performance. Bando has launched the Series W800, the highest quality among V-belts for agricultural machinery on the market.
Belt Construction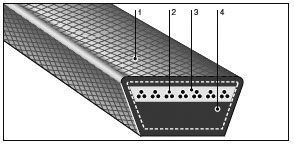 Chloroprene impregnated canvas
Aramid tension members
Chloroprene insulation rubber
Chloroprene compression rubber
Product Characteristics
temperature resistant from – 30° to +90°C
anti-static
limited oil resistance
highly fire resistant
particularly resistant to environmental influences like heat, ozone, sunlight and effects of the weather.
Dimensions and Size Marking
Standard Sizes
Tabelle 1: Available Sizes of BandoAgriculture V-Belt W800
Typ
Top width
bo [mm]
Thickness
h [mm]
Angle B[°]
SA
13,0
7,0
40
SB
17,0
9,0
40
SC
22,0
11,0
40
Tabelle 2: Feature Comparision – Numerical values shown above represent indexes when taking the standard V-belt as 100
Characteristic
Standard
V-Belt
RED-S II
W800
Power transmission capacity
100
150
300
Service life against reverse bending
100
450
1800
Service life against shock
100
150
450
Brochure: W800 Agricultural V-Belts
Brochure including additional information: