BANDO RED-S II Agricultural V Belts were developed especially for agricultural machinery with reverse-bend drives.
These belts are especially suited for drives with backside idlers.
The reduced belt thickness and the optimized position of the tension members increase the service life of RED-S II V-Belts by many times compared to conventional V-belts.
This belt type is especially suited for agricultural and horticultural equipment.
Belt Construction for Agricultural V Belts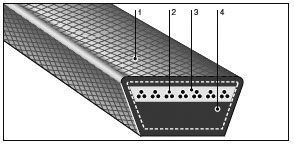 Chloroprene impregnated canvas
Polyester tensile members
Chloroprene insulation rubber
Chloroprene compression rubber
Product Characteristics
temperature resistant from – 30° to +90°C
anti-static
limited oil resistance
highly fire-resistant
particularly resistant to environmental influences like heat, ozone, sunlight and effects of the weather
Dimension & Size Marking

Size List
Tabelle 1: Available Sizes of BandoAgriculture V-Belt RED S II
Typ
Top width
bo [mm]
Thickness
h [mm]
Angle B[°]
DownloadSize List
SA
13,0
7,0
40
SB
17,0
9,0
40
SC
22,0
11,0
40
Brochure: RED-S II Agricultural V-Belts
Brochure including additional information: