Ceptor®-VI is ideal for high torque synchronous power transmission applications.
Features
Select the optimum belt based on application conditions.
Due to the higher power transmission capacity, the belt width can be reduced.
Low noise performance due to the narrow belt width and compact design.
Compatible with standard pulleys.
Ceptor®-VI advantages: super torque
High power transmission capacity: High torque transmission of Ceptor VI for lower speed range.
High strength tension members: Ceptor VI uses high strength tension members, therefore it has less elongation and longer life time.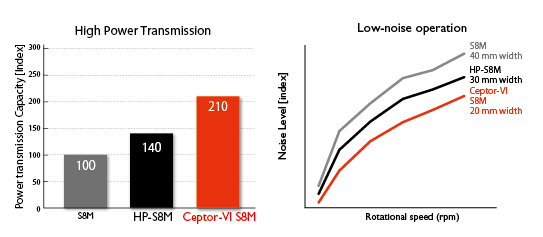 Compact design: Ceptor VI offers a narrow belt design for operations in limited design space.
Noise Reduction: Low noise performance due to the narrow belt width.

Application Examples
Press- and Stamping machinery

Industrial Robots and Toys

Medical devices and bookbinding machine

Linear Robots and Kitchen Food Mixer

Belt Specifications and Size List
BANDO Ceptor-VI is the right choice if your application needs even more performance than STS and HP-STS belts.
BANDO Ceptor-VI brochure with additional information about available sizes, performance and guidelines (Updated: April 2023):