Banded BANFLEX SCRUM polyurethane V-belts were developed especially for high speed drives with a belt speed of up to 60 m/s.
The ground flanks and enlarged profile angle provide for extremely low vibration running. Small pulley diameters and higher belt speeds permit compact and light drives. Ideal for horizontal drives. The use of polyurethane makes the belt highly resistant to oil and ozone. The diagonally grooved back of the belt optimizes its flexibility.
Product Characteristics
Temperature resistant from -30° to +60°C
High oil resistance
Highly resistance to environmental influences like heat, ozone, sunlight and effects of the weather.
Belt Construction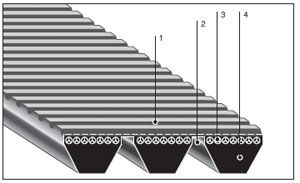 Polyurethane belt backing
Banded polyester canvas
Polyester tension members
Polyurethane belt structure
Dimension and Size Marking

Standard Sizes
Tabelle 1: Bando Banflex Scrum Keilriemen PU
Section /
number of ribs
Top width
bo [mm]
Thickness
h [mm]
Angle
[ ° ]
Download
2- 5MS
9,80
3,30
69
3- 5MS
15,10
3,30
69
2- 7MS
15,60
5,30
68
3- 7MS
24,10
5,30
68
2- 11MS
24,40
7,00
68
3- 11MS
37,60
7,00
68