Bando V-RIBBED belts show particularly high flexibility, due mainly to belt thickness.
Transmission ratios of up to 40:1 are possible, and the belts guarantee low vibration and quiet running.
Bando V-RIBBED drives show up to 50 % higher performance potential compared to conventional V-belt drives.
Product Characteristics
Temperature resistant from -30° to +90° C
Electrically conductive
High flexibility
Suitable for reverse bend drives
Highly resistant to environmental influences like heat, ozone, sunlight and effects of the weather.
Belt Construction of BANDO V-Ribbed Belts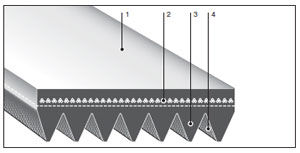 Chloroprene rubber
Polyester tension members
Chloroprene rubber
Rubber impregnated canvas
Dimension and Size Marking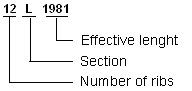 Standard Sizes
Table 1: Bando V-Ribbed Belts
Section
Pitch
p [mm]
Thickness
h [mm]
Download
J
2,34
3,50
L
4,70
7,00
M
9,40
12,00