BANDO RED-S II are especially suited for drives with backside idlers.
BANDO RED-S II V-Belts were developed especially for agricultural machinery and snow blower with reverse-bend drives.
The reduced belt thickness and the optimized position of the tension members increase the service life of RED-S II V-Belts by many times compared to conventional V-belts.
This belt type is especially suited for agricultural, horticultural and snowblower equipment.
Belt Construction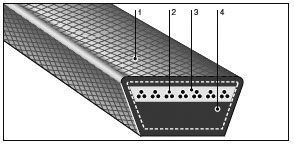 Chloroprene impregnated canvas
Polyester tensile members
Chloroprene insulation rubber
Chloroprene compression rubber
Product Characteristics
temperature resistant from – 30° to +90°C
anti-static
limited oil resistance
highly fire-resistant
particularly resistant to environmental influences like heat, ozone, sunlight and effects of the weather
Dimension & Size Marking

Size List
Tabelle 1: Available Sizes of BandoAgriculture V-Belt RED S II
Typ
Top width
bo [mm]
Thickness
h [mm]
Angle B[°]
DownloadSize List
SA
12,7
7,0
40
SB
16,7
9,0
40
SC
22,2
11,0
40
Brochure: RED-S II V-Belts for Snow Blower
Brochure including additional information: