Narrow SP V-Belts – DIN 7753T1, ISO 4184
These high performance Narrow V-Belts can be used in all industrial sectors.
BANDO NARROW SP V-Belts require much less space – at the same load – as conventional drive belts, i.e. their transmission capacity – in the same space requirements is much higher. These extraordinary product characteristics are based on optimized profile characteristics and on the use of very high quality materials.
Product Characteristics
satzgleich
temperaturbeständig von -30° bis +90°C
elektrisch leitfähig
bedingt ölbeständig
hohe Flammbeständigkeit
besonders beständig gegen Umwelteinflüsse wie Hitze, Ozon, Sonnenlicht und Witterungseinflüsse.
Belt Construction
Rubber impregnated canvas
Polyester tension members
Neoprene insulation rubber
Special lateral reinforcing cord
Neoprene compression rubber
Dimension and Size Marking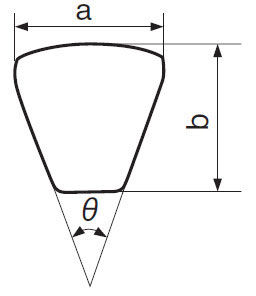 Standard Sizes
Table 1: Available Sizes of Bando Schmalkeilriemen SP-Typ
Typ
Top width
bo [mm]
Thickness
h [mm]
Angle
[ ° ]
Download
SPZ
9,7
8,0
40
SPA
12,7
10,0
40
SPB
16,3
13,0
40
SPC
22,0
18,0
40