BANDO Fractional FHP V-Belts offer a long-lasting solution for shorter center distance, high speed fractional horsepower drives. Common applications include HVAC equipment and appliances.
Product characteristics
temperature resistant from – 30° to +90°C
electrically conductive
limited oil resistance
highly fire resistant
particularly resistant to environmental influences like heat, ozone, sunlight and effects of the weather.
Belt construction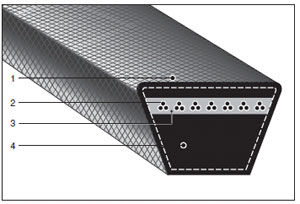 Chloroprene impregnated canvas
Strong polyester tensile members
Chloroprene insulation rubber
Chloroprene compression rubber
Dimension and Size Marking
3L 150
3L = Belt type
150 = Multiply outside length in inches by 10 (15 inches x 10 = 150)

Standard Sizes
Tabelle 1: Bando Duraflex V-Belts
Section
Top width
bo [mm]]
Thickness
h [mm]
Angle
B[ ° ]
3L
10,0
5,5
40
4L
13,0
8,0
40
5L
17,0
9,0
40