BANDO AVANCE is a revolutionary dry CVT belt (Continuously Variable Transmission), which eliminates the need for oil cooling in automatic power transmission systems.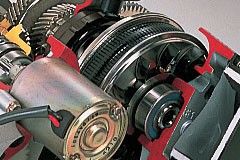 AVANCE is a hybrid V-belt that combines H-shaped muscle composites and twin tension members.
This structural makeup is a unique Bando design, which creates low heat, high velocity, and high-torque power transmission.
AVANCE Features
highly efficient power transmission
the belt's grip on the pulley is so firm that slippage is almost totally eliminated.
the low-heat generating structure enables full-capacity engine utilization, thus reducing energy costs
low noise
the smooth transmission allows calm and quiet driving
lightweight
minimal heat generation, so power can be transmitted without cooling accessories, which simplifies the structural design, and allows lightweight automatic transmission.
AVANCE Brochure
AVANCE brochure including additional information:


20170105_AVANCE_Broschüre_EN_web